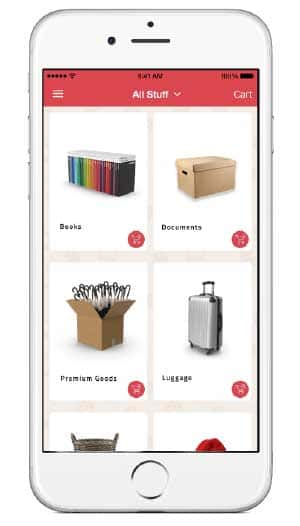 You have items to be stored away.
Your office manager scrambles to call several storage providers who quotes you based on certain dimensions. You get someone else to do a quick estimate of the space required, or to measure the items. You then schedule a busy executive to coordinate a mover or a pre-arranged commercial transport to bring the items to the warehouse, only to discover that you didn't need that much space.
Sounds frustrating? Try bringing back the items, or locating a particular item a few months later.
Let BEAM help.
We combine warehousing and logistics into an affordable concierge service. You only pay for what you store. BEAM saves you time, helps manage costs, facilitates quick movement of goods, reduces lost items and prevents duplicate purchases.
View inventory from your phone and schedule a pick-up or delivery (4-hour turnaround time, subject to availability) with the BEAM Space mobile app.
Convenient? We think so too! You never even have to step into a warehouse.
Send an Email to your BEAM account manager today to find out more.

 BEAM Storage is the perfect solution for offices that require more storage space. All you have to do is set up an account on their app, arrange a pickup and you can manage your inventory at the tip of your fingers. Managing your inventory is now easier for you can actually see photos of your items using the app, service complimentary of BEAM Storage. Fuss-free and reliable service - an excellent combination for a business solution. 
-- Ms Chua Bing Zhen
Marketing Specialist – Brand & Product, Asia